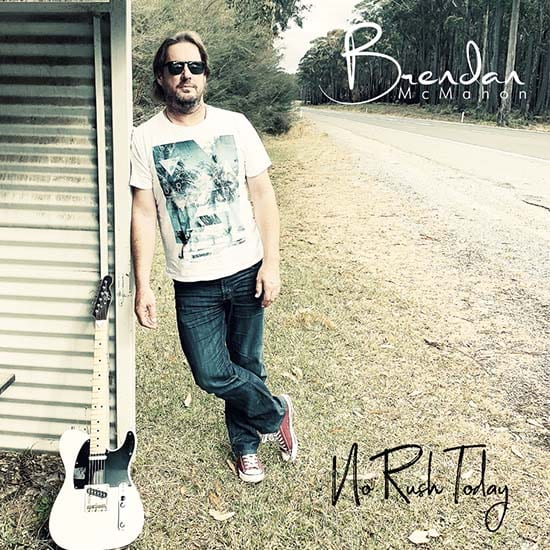 Before I start, and as I listen to the album for the first time, I have to comment on a particular track – No Yesterdays – holy stunner, Batman. This song is just amazing. In these difficult times, it could stand up as an anthem. Wow.
Now let me begin. Let's start at the very beginning, it's a very good place start, so sings a pretty good authority. I haven't known Brendan's music for very long, but I have loved everything that I have heard, and I have to say, that this is his best yet. 12 amazing tracks. Some of them you would have already heard if you watch his Facebook LIVE gigs or his single, Jack.
Aside from the totally off the planet, Groove with Bob, which maybe Keith Urban would have attempted, and I am sure that there is a story behind it, all of the songs have layers, are anthemic or are beautiful ballads and stories.
Brendan is a story teller, like most of this genre. A lot of the songs are about fighting battles – large and small – struggle, love, hope, loss and memories, life in general. The tempo does change from song to song, with lots of ripping guitars and catchy rhythms as well as a mini orchestra and some stripped back ballads.
A lot of this album seems to be about reflection. However, there seems to be a nod to the present and the future too.
The pre-orders will include donations to MS, which is very generous of Brendan.
Brendan's music could fit into a few different genres. Every song has its own direction. On Last Rodeo, Brendan sounds like he is Doc Neeson singing folk music….there are some crosses of cultures. It is a great way to finish an album.
Takin it today pumps up the room for the start. It makes a statement but it also gets you up on the dance floor. It does have the words no yesterday in it which does allude to another track.
Wired to the Moon has a Celtic feel to it, and it is probably one of my favourites on the album. It is one of those songs that basically is telling you to let go….
Larry (Morris Pt 2) – is it a beautiful ballad about beginnings and endings and ifs, buts and maybes. Wonderful song.
Jack is the single which I reviewed in The Single File. It is one of those where only the names have been changed.
No Yesterdays is the song that I mentioned at the top. simply magic. It is already up in my top 10 for the year.
Sugar Cane Man is a catchy song which seems familiar but I have never heard it before. It may be a shower song nomination. It is a beauty.
Calling makes all things smooth again after the funky song in between. It is probably the most gentle and simple song on the album.
It's Not Me – lyrically a very interesting song….it is catchy and will have your toes tapping but the secret is in the lyrics – clever how one line opposes the other.
Deception is a song which works on a few different levels – it is a song for now in many ways, subtle in expression and in delivery but with a message.
Brave is a bit Sting/Police like and definitely one of the best songs on the album.
I have already mentioned Last Rodeo, which is definitely a great way to round off the album.
This album delivers many sounds and images. It has messages and moods and it is a beautifully polished production. You don't have to be an alt. country fan to enjoy this. It has something for everybody.
Well done Brendan.
Tracks:
Takin' it today
wired to the moon
Larry (Morris pt 2)
Jack
No Yesterdays
Sugar Cane Man
Groove With Bob
Calling
It's Not Me
Deception
Brave
Last Rodeo
all songs written by Brendan McMahon
Recorded at Soggy Dog Recording, Upwey, Victoria
Production and engineering by Steve Vertigan
Mastered by Ross Cockle at Sing Sing, Melbourne
The Musicians:
Peter Maslen Drums and Percussion
Jason Vorherr Bass and backing vocals
Bret Kingman Electric guitars
Dave Leslie Electric guitars
Sam See Electric guitars
Kim Kelaart Hammond organ
Anthony Barnhill Piano
Belinda Parsons, Amber Ferraro, Montana Sharp – backing vocals
Sara Curro Violin
Gabi Halloran Viola
Paul Zabrowarny Cello
Steve Vertigan Keyboards
Brendan McMahon Lead and backing vocals, electric and acoustic guitars, mandolin and banjo